Versatile AC/DC power supply has both medical and ITE safety approvals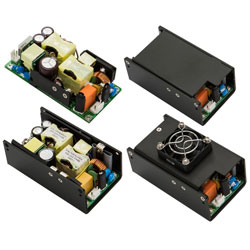 29-03-2022 | TRUMPower | Power
Tumbler Technologies, Inc. + TRUMPower has added the BF-rated TIM250-S Series power supply, capable of delivering 250W of output power at 18 CFM of forced air, to its line of AC/DC switching power supplies. The series meets medical and ITE safety requirements and is highly adaptable to multiple applications with different configuration possibilities.
This power supply is offered in three single output voltages of 12V, 24V or 48V and can be equipped with different types of output connectors. To add to its versatility, the series is offered in several form factors, from open frame PCB, U-bracket to closed (U-bracket with cover) and closed case with top mounted fan. The PCB version of the power supply comes in a compact 4.09″ (L) x 2.13″ (W) x 1.26″ (H) footprint.
The power supply operates between 90-264VAC at ambient temperatures ranging from -20C to +70C and comes standard with 2 x MOPP BF insulation rating. The unit is ideal for operation at a maximum altitude of 5000m for ITE grade requirements and 3000m for medical grade applications. It achieves 93% efficiency typically at 230 VAC, full load. The power supply is exceptionally reliable with its minimum MTBF of 350,000 hours at full load at 25°C ambient, calculated by Telcordia (Bellcore TR-332).
The series is certified to the latest medical standards including UL/IEC/EN 60601-1 Edition 3.1 and the latest ITE quality standards of UL/IEC/EN 62368-1. Power supply complies with IEC/EN 60601-1-2 4th Edition Medical EMC and Immunity, EN 55011, EN 55024, EN 55032, EN 61000-3-2, EN 61000-3-3, EN 61000 -4-2 (ESD at ±15kV air and ±8kV contact), EN 61000-4-3, EN 61000-4-4, EN 61000-4-5, EN 61000-4-6, EN 61000-4-8 and EN 61000 -4-11.