TI tackles power management design challenges at APEC 2022 – April 26, 2022

printable version
TI tackles power management design challenges at APEC 2022
April 26, 2022
Power Electronics / Power Management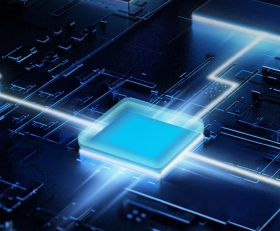 Texas Instruments (TI) demonstrated at this year's Applied Power Electronics Conference (APEC) how engineers can overcome some of their most pressing power management design challenges. The company showcased the latest additions to its power management portfolio and demonstrated system-level solutions to increase power density, reduce electromagnetic interference (EMI), noise and quiescent current (IQ) and extend reliability.
TI launched three new products at APEC 2022 to help engineers mitigate EMI and noise in their systems:
The LMQ66430 and LMQ66430-Q1 36V, 3A step-down converters incorporate two input bypass capacitors and a bootstrap capacitor, allowing engineers to easily meet CISPR 25 Class 5 EMI standards while providing minimum total solution size , a low quiescent current of 1.5 µA and reduced BOM costs.
The TPS7A94 low-dropout (LDO) linear regulator combines ultra-low noise of 0.46 µVRMS with high power supply rejection, helping designers improve system accuracy and precision in highly sensitive applications such as medical equipment, wireless infrastructure and radar.
For more information, visit www.ti.com
Further reading:
AMOLED power management IC
Altron Arrow Power Electronics / Power Management
STMicroelectronics' new fully integrated power management IC (PMIC) for AMOLED displays combines low quiescent current and increased flexibility to extend battery life in portable devices. With …
Read more…
---
Monolithic white LED driver
NuVision Electronics Power Electronics / Power Management
Monolithic Power Systems' MP2341 is a 24V, monolithic, synchronous, rectified, step-down, white switching LED (WLED) driver with integrated power MOSFETs and a synchronous rectifier switch. He can reach …
Read more…
---
100 W open frame power supplies
Vepac Electronics Power Electronics / Power Management
XP Power's FCB100 series of AC-DC power supplies are certified to medical (including BF), ITE, and domestic standards for Class I and II operation (no grounding). With class B performed …
Read more…
---
50W GaN flyback converter
Altron Arrow Power Electronics / Power Management
STMicroelectronics' VIPerGaN50 simplifies the construction of single-switch flyback converters up to 50 W and incorporates a 650 V gallium nitride (GaN) power transistor for improved power efficiency and miniaturization.
…
Read more…
---
3.3 kV SiC MOSFETs and Schottky Barrier Diodes
EBV Electrolink Power Electronics / Power Management
System designers of traction power units (TPUs), auxiliary power units (APUs), solid-state transformers (SSTs), industrial motor drives, and energy infrastructure solutions require a high voltage switching …
Read more…
---
Locally made clean energy solutions

News Power Electronics / Power Management
Creslow's clean energy storage systems operate either as a battery backup system in conjunction with an inverter or as an off-grid system using an inverter and solar panels.
Read more…
---
XP Power strengthens its HV offer with German acquisitions
Vepac Electronics Power Electronics / Power Management
XP Power, one of the world's leading developers and manufacturers of critical power solutions for the electronics industry, has acquired German companies FuG Elektronik GmbH (FuG) and Guth High Voltage …
Read more…
---
High noise immunity triacs
Altron Arrow Power Electronics / Power Management
STMicroelectronics' T-series triacs are designed for the ever-increasing number of AC loads in device control. These AC appliance switches meet both the immunity and high switching needs of such …
Read more…
---
Economical 60 W power supplies
Vepac Electronics Power Electronics / Power Management
XP Power has launched a new series of low-profile 60W AC-DC power supplies for use in a wide variety of cost-sensitive applications including computing equipment, industrial and home electronics, …
Read more…
---
Power quality analyzers with advanced logging
Comtest Test & Measurement Power Electronics / Power Management
Power quality (PQ) measurements can be complex to set up and frustrating when critical events are missed. Comtest, Fluke's local partner, introduced the new Fluke 1770 series which captures …
Read more…
---