Thermaltake ToughPower GF3 1350W Power Supply Review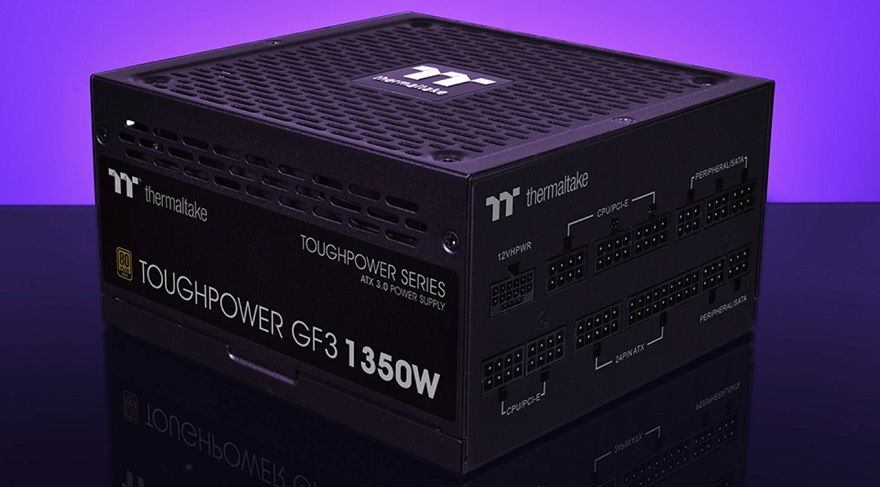 Thermaltake is undoubtedly a highly respected manufacturer of computer hardware, peripherals and components. And especially when it comes to their power supply designs. Representing one of the few companies that always seem to have their eye on the future, we recently saw the release of their brand new ToughPower GF3 series of power supplies.
Offering many excellent features, some of the highlights include the new PCIe Gen5 power connection as well as ATX 3.0 support. – Simply put, if you need a PSU and power supply that will stand the test of time (based on upcoming hardware releases – and especially graphics cards), this is definitely this one!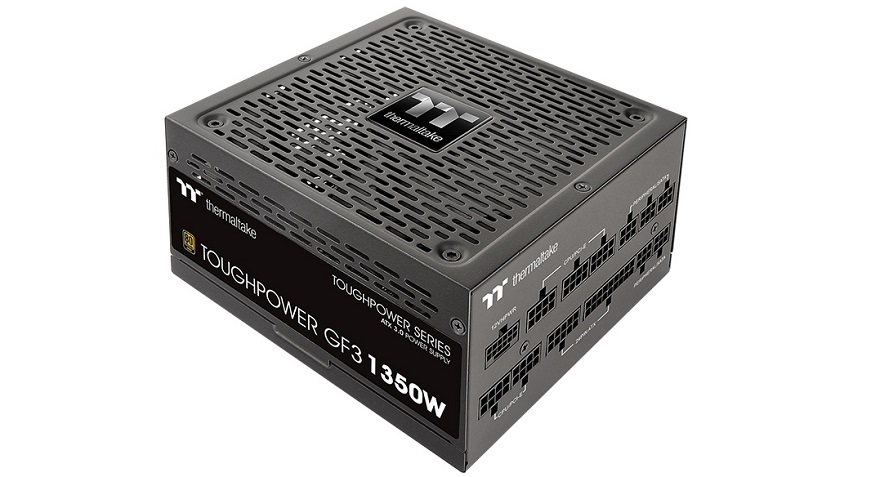 Thermaltake ToughPower GF3 1350W power supply
The Thermaltake ToughPower GF3 is available in a wide variety of wattages to meet virtually any need and requirement. These include:
750W
850W
1000W
1200W
1350W
1650W
Simply put, depending on how you want or what your hardware needs, there's something for everyone here in the ToughPower GF3 series when it comes to power output. And let me also point out that it is more than unusual to see six variants in any power supply series. Thermaltake definitely seems to be appealing to the masses with this one!
For this particular review, however, we'll be taking a closer look at the 1350W variant (although, for the sake of simplicity, from now on, we'll just call it "Thermaltake ToughPower GF3").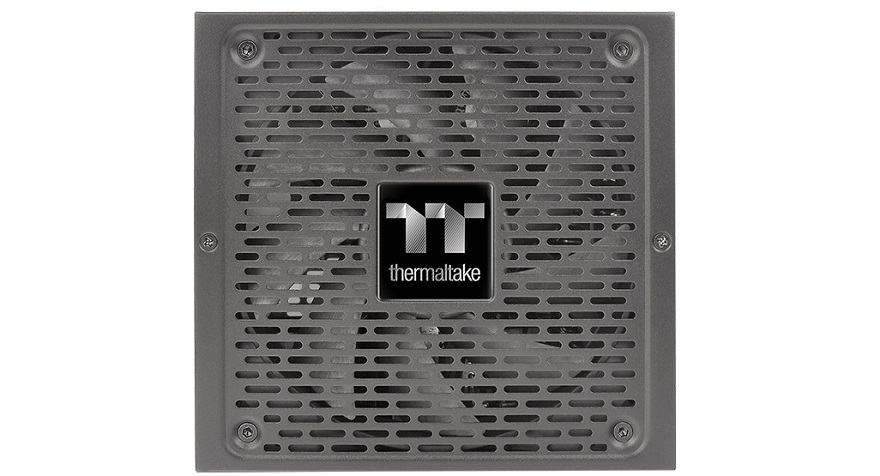 What does Thermaltake say?
"PCIe Gen 5.0 Ready! Designed with a native PCIe 12+4 pin modular connector, the Toughpower GF3 series is designed for next-generation PCIe 5.0 graphics cards and is compatible with Intel ATX 3.0 specifications. The fully modular Toughpower GF3 series is available in 1650W, 1350W, 1200W, 1000W, 850W, and 750W and is designed to deliver 80 PLUS Gold efficiency.Intended to deliver the highest performance, the Toughpower GF3 1350W includes all essential features such as low ripple noise design 17 milliseconds and comes with 100% high quality Japanese capacitors. and other premium components to help deliver continuous, stable power.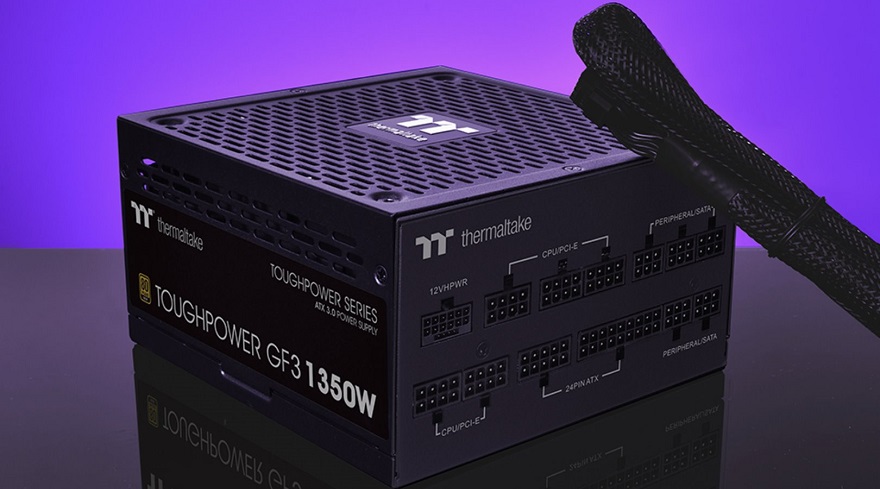 Features
Supports native 16-pin PCIe Gen 5 connector compatible with ATX 3.0
140mm HDB fan and Smart Zero Fan function
Robust resonant LLC topology with DC-DC conversion design for reliable power
and superb electrical performance.
100% High quality Japanese 105°C capacitors
Comprehensive hardware protection: OCP, OVP, UVP, OPP, SCP, OTP
10 years warranty

Features
For more detailed specifications, please visit the official product page via the link here!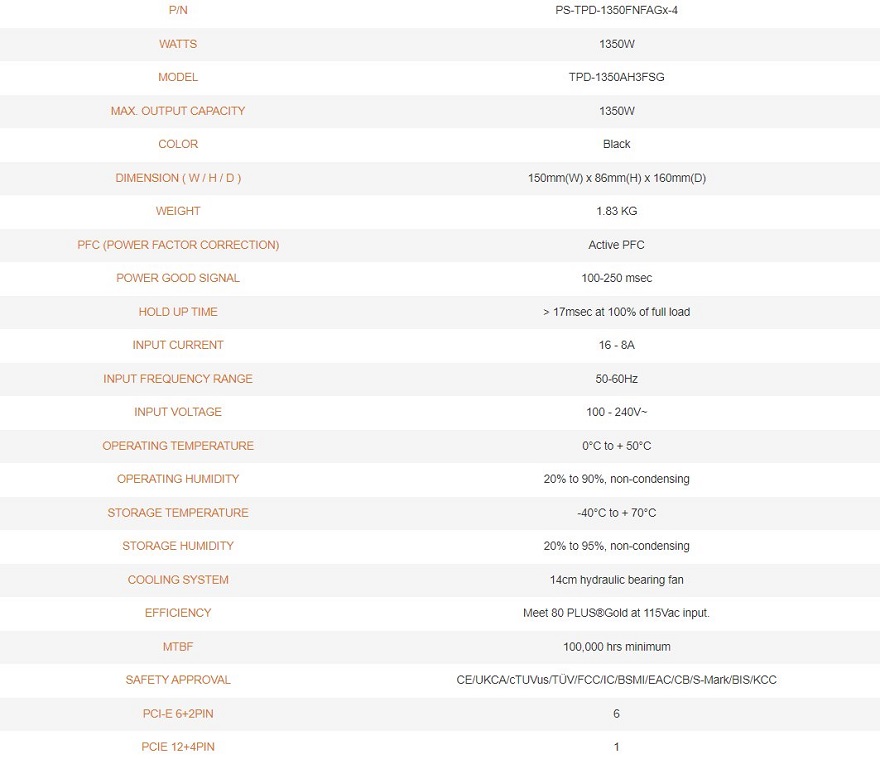 Connections
The Thermaltake ToughPower GF3 series of power supplies come in a fully modular design, meaning you only need to install the cables your hardware needs. For this 1350W you have many options which you can see below.